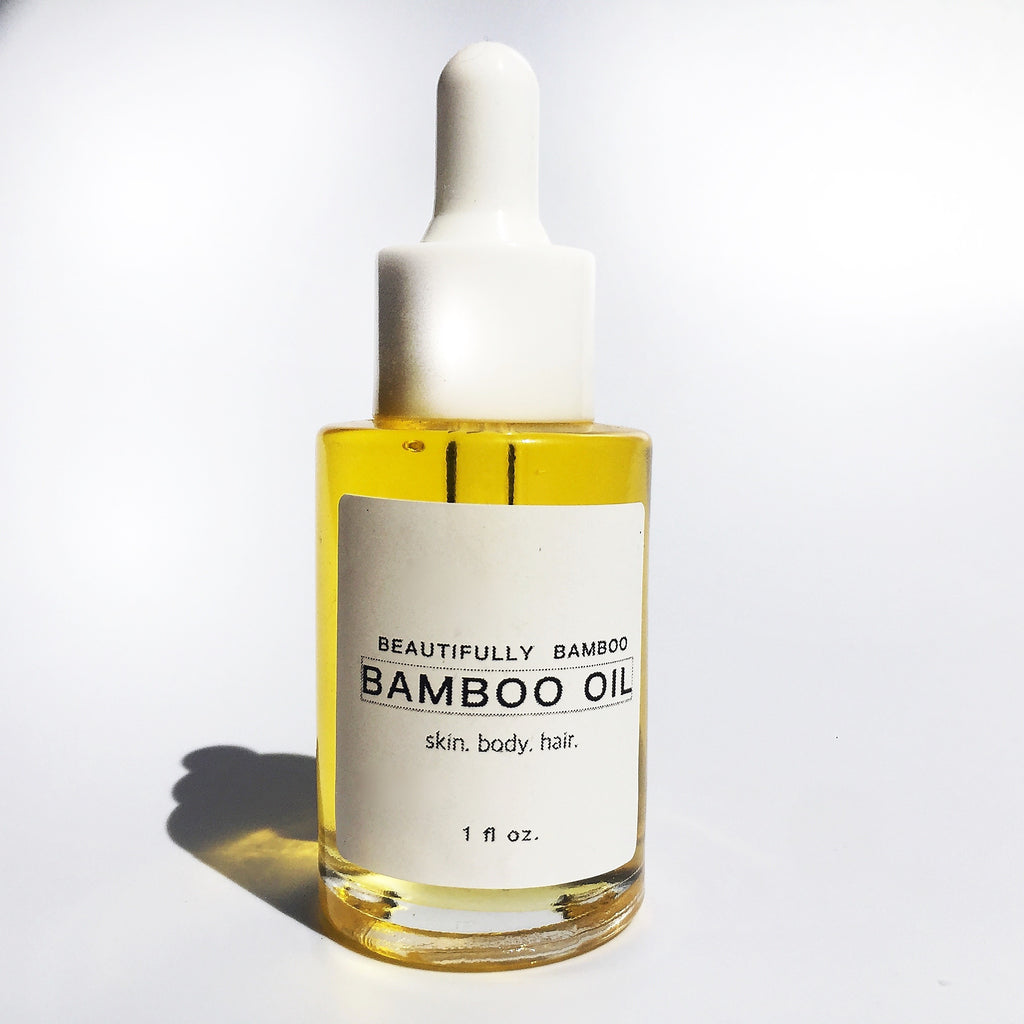 Bamboo Silica Extract Infused Facial Oil
A blend of uniqueA blend of skin loving oils infused with nourishing bamboo extract. Bamboo Oil is ultra lightweight and non-greasy. Formulated to moisturize the skin with antioxidant-rich oils along with the silica-rich qualities of bamboo.
Details
A Luxurious Blend of Silica Infused Nourishing Oils Formulated to Nourish Your Skin and Hair.
What are the benefits of adding a facial oil to my regimen?

Increased hydration to the skin as the oil provides a protective barrier to extend the life of your moisturizer.
Facial oils help to provide the skin with a non-greasy glow.
Enhances softness and suppleness of the skin.
Improves fine lines and wrinkles thanks to the help of the many antioxidants, nutrients, and essential fatty acids contained in plant oils.
What are the key ingredients in this facial oil? 
Squalane - A lightweight oil that mimics that natural squalene produced by our own skin.  Squalane is an excellent hydrator that prevents ongoing loss of moisture to the skin. 
Rosehip Oil- Rosehip is rich in vitamin C which helps brighten up the skin while reducing the appearance of hyperpigmentation. Along with vitamin C, rosehip is rich in vitamins A, which can help slow the process of collagen breakdown that leads to the appearance of aging. 
Bamboo Extract- Bamboo extract is a rich source of silica which plays an important role in promoting healthy hair and skin. Bamboo silica also has soothing properties when blended with lotions or your favorite cream moisturizer. Bamboo also contains antioxidants that help promote younger-looking skin.
Add a few drops of our nourishing bamboo oil to palms and massage gently into the skin. To enhance your favorite skin products, add 1-2 drops of Bamboo Oil to your moisturizer or foundation before applying on the face.  May be used over hydrating creams to help seal in moisture.
Squalane, Camellia Seed Oil, Jojoba Oil, Rosehip Oil, Grape Seed Oil, Bamboo Extract, Chamomile Extract, Sunflower Seed Oil, Vitamin E.
Enjoy Free Domestic Shipping on Orders $50.00 or more! Orders Typically Ship within 48 hours.