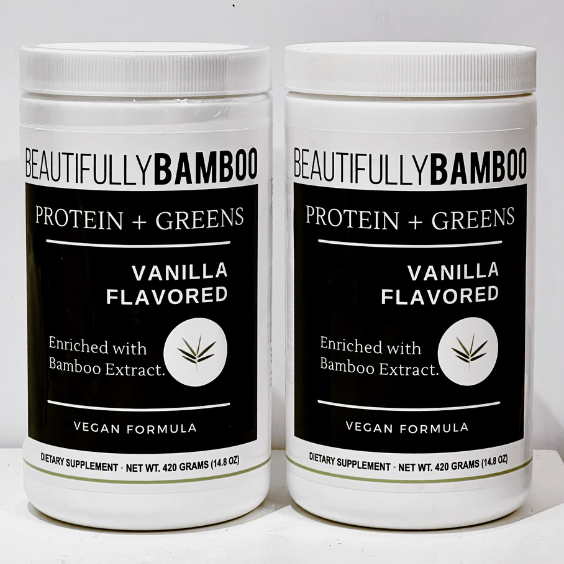 PEA PROTEIN +GREENS POWDER SET (2 UNIT BUNDLE)
Organically Grown Bamboo Leaves and Stems.
Details
+ Pea Protein & 8 Unique Greens infused with Bamboo Silica Extract. 
+
Green Powder Complex:

Spirulina, Broccoli powder, Barley Grass powder, Alfalfa leaf powder, Wheat Grass powder, Chlorella, Spinach Leaf Powder, Kelp.
+ Bamboo Silica, Folic Acid, MSM and 19 AMINO ACIDS to support healthy hair, skin, and nails
+Vegan Formula
+Vanilla Flavored
+ 19 grams of protein per serving
What makes our Silica + Pea Protein formula so special?
Our Protein+Silica protein is a complete blend of ingredients that support your health and beauty goals.  There are countless protein powders on the market, but how many also incorporate 8 different veggie greens loaded with micronutrients?   Then included bamboo silica to support your skin and hair from the inside out.  Our protein blend is the perfect product to support your hair goals. 
Add up to 1 scoop to your morning smoothie or favorite beverage to infuse it with vitamins, protein, and super greens.  Our protein blend can also be mixed with milk or water.
Pea Protein, Greens Powder Proprietary Blend including Spirulina, Broccoli powder, Barley Grass Powder, Alfalfa Leaf Powder, Wheat Grass Powder, Chlorella, Spinach powder, Kelp, Bamboo Silica, Organic Hemp Protein, Natural Flavors, Sacha Inchi Protein, Milled Chia, Stevia Leaf Extract, Guar Gum, Dulse Powder